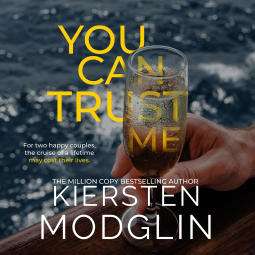 Book Review: You Can Trust Me
Book: You Can Trust Me
Author: Kiersten Modglin
Thank you NetGalley and Dreamscape Media for an advanced audio copy.
---
You Can Trust Me is a book that I was so happy to see for one of the silliest reasons. I reviewed another book by Modglin that was a romance and the end of that book felt like a thriller. I said I would love to read a thriller by Modglin, and then I got You Can Trust Me. It did not disappoint.
This story was very similar to a locked room mystery without the locked room. I know that makes no sense but in the context of this book it does. Mae and her husband Blake are on a cruise with their friend Florence and Florence's boyfriend. Blake wakes up and Mae is missing.
The mystery of what happened to Mae kept me glued to the story. I took a break and tried to do something else and I just kept thinking, "Where is Mae?" I had to get back to the book immediately.
Modglin did a fantastic job at painting everyone a little suspicious leaving you constantly second guessing everyone's actions and motives. Once you find out what happened, it was something I did not see coming and I loved it.
Final Score 5/5