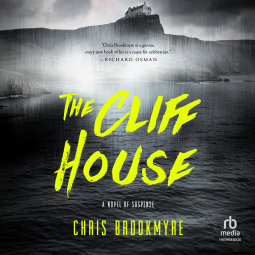 Book Review: The Cliff House
Book: The Cliff House
Author: Chris Brookmyre
Thank you NetGalley and HighBridge Audio for an advanced audio copy.
---
I'm not going to be as hard on this review as I should be. The reason I decided to take it a little easy is because I should have known better. This is not the typical book that I like but I just keep trying anyway. There is something about this style of book that I am drawn to but it's rare that I love it.
The Cliff House follows a group of girls on a hen party, or a bachelorette party for Jennifer's second marriage. They are going to a luxury Scottish island for three days. None of this seemed all that original and there were a lot of characters thrown at you quickly making this difficult to follow.
The plot and the characters did not suck me in so I was hoping the setting would but unfortunately there was not enough description of the Scottish island. The story instead gave us a lot of details and reasons to not like a lot of the characters. This reminded me a lot of The Guest List by Lucy Foley, for some that may be a good thing but for me it was not.
If you like mysteries with a lot of characters then this may be one for you. Unfortunately, this is another failed attempt to get me to like books like this.
Final score: 3/5