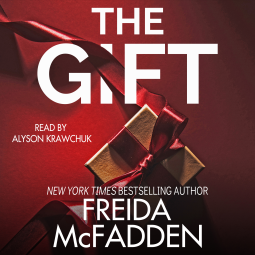 Book: The Gift
Author: Frieda McFadden
Thank you NetGalley and Dreamscape Select for an advanced audio copy.
---
I have made the claim that Frieda McFadden is becoming one of my favorite authors so I was very excited for The Gift. This was a short story and I really enjoyed it but this is the weakest story of all her books for me so far.
The story follows Stella who is newly married and struggling to pay the bills. She is working her second job on Christmas Eve counting the minutes until she can go home to her husband for their first Christmas together. After hearing that quick summary I want you to remember who the author is so don't expect a happily ever after.
With no time left to shop and no money, Stella has to take drastic measures to get a gift for her husband. She makes a trade to get what she thinks is a perfect gift. Again this is a short story so there was little time for development. The story was leading us to this gift and when it played out it was definitely a twist I was not expecting.
This story definitely had the I didn't see it coming twist but overall I just felt it was mostly uneventful. With the story being so short I expected it to be a lot quicker but it seemed to drag to the conclusion. Luckily the conclusion was worth it and paid off. 
If you want a different kind of Christmas story then definitely check out The Gift.
Final score: 4/5