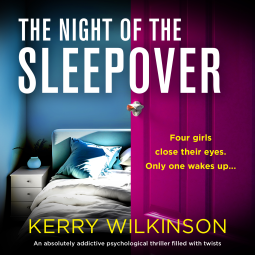 Book Review: The Night of the Sleepover
Book: The Night of the Sleepover
Author: Kerry Wilkinson
Thank you NetGalley and Bookouture Audio for an advanced audio copy.
---
The Night of the Sleepover is an interesting story idea and a great conclusion but it was a chore for me to get there.
Twenty-five years ago Leah had a sleepover with three of her friends. When she wakes up she is alone. None of her friends were there. They just vanished. Now in the present day, there is a documentary being made about the girl's disappearance.
The production of the documentary and most of the events surrounding it did not interest me. I wanted to know what happened to the girls but I just didn't get into the documentary.
There is an anonymous email to Leah telling her to get the documentary stopped. This should be interesting but the way it's presented failed to grab me fully. Again, I wanted to know what happened to the girls and why someone wanted this documentary stopped but I just didn't find the delivery interesting.
When we finally found out what happened to the girls I was shocked. It was not what I expected and I loved the conclusion and how everything fit together. I wish this idea was told to me differently but what we have here is a unique story with a great ending.
Final score: 3/5