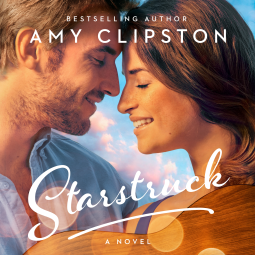 Book: Starstruck
Author: Amy Clipston
Thank you NetGalley and HarperCollins Christian Publishing for an advanced audio copy.
---
Starstruck is a great book with excellently developed characters. This was a story that I wanted to love but just ended up really liking it. I felt it was missing something to push me over to love.
The story follows Heather who lives in a small town. A rock band comes through her town and has dinner where she works. Two of the band members make a mess and when Heather is left cleaning it she meets the older brother and third member of the band, Alex. Heather doesn't know who Alex is or even who the band is, which is so refreshing to Alex. After this chance encounter Alex and Heather start talking and Alex finally has someone who is talking to him for who he is, not just because of what he is.
Alex and Heather are so cute together and are really well-written characters. They immediately face relationship problems due to the nature of Alex being on tour and all of the press she now gets for dating him. Heather is not used to that and doesn't know if that's a life she can ever be used to.
I wanted nothing but the best for Alex and Heather so I liked seeing their relationship grow but I did feel that for a good portion of the story we were basically standing still. Nothing was really happening in either direction. Then without warning everything started to happen at once. This is a story that has been done before so that's why I think I was expecting something a little more. I hate to use terms like this but it was almost too generic. What really saved this book was how great the characters were.
If you like romance books with perfectly written characters, this story is for you!
Final Score 4/5